WINDMILL VALVE Series Triple Eccentric butterfly Valve offers 2 main categories: the soft seal Type and metal to metal seal type. The metal Seal Series, WINDMILL adopt Multi Layer Metal Seat. The Connection with wafer type, Lug type and flanged type will be available.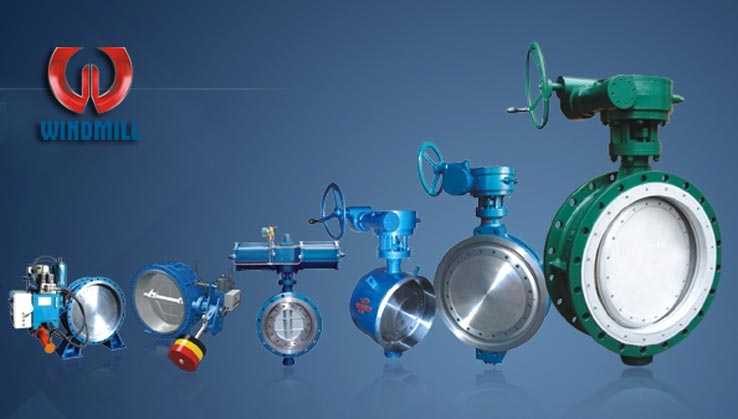 Butterfly valve is a type of valve which can be used in a variety of chemical services. They are available with small dimensions allowing for use in areas where space is limited, and they allow a high coefficient of flow.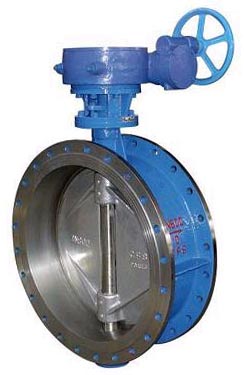 A butterfly valve is composed of body, soft seat or hard seat, disc, stem, packing, notched position plate, and a lever or gear. The seat is under compression when it is mounted in the valve body, thus making a seal around the periphery of the disc both upper and lower points where the stem passes through the seat. Packing is provided forming a positive seal around the stem for added protection in case the seal formed by the seat could become damaged.
Butterfly valve Design Construction and Specifications
WINDMILL Butterfly valves design and manufacture comply to MSS SP 67-1997
Each are tested according to API 598,and marking is per MSS SP-25
Face to face dimension complies to BSS5155
Butterfly valve Flanges comply to API 605
Pressure-temperature grade complies to ANSI B6.34
Construction is as follows
* Anti-Blowout spring pin
* Position Indicator plate
Standard Material Specification
| | | | |
| --- | --- | --- | --- |
| NO. | PART NAME | Standard | Stainless Steel |
| 1 | Body | ASTM A216-WCB/316 overlay | ASTM A351-CF8M |
| 2 | Disc | ASTM A216-WCB | ASTM A351-CF8M |
| 3 | Disc Retaining Ring | ASTM A182-F316 | ASTM A182-F316 |
| 4 | Steel Seal Ring | ASTM A182-F316 | ASTM A182-F316 |
| 5 | Seal Ring | Graphite/PTFE | Graphite/PTFE |
| 6 | Gland Flange | ASTM A216-WCB | ASTM A351-CF8 |
| 7 | Shaft | ASTM A182-F316 | ASTM A182-F316 |
| 8 | Gland | ASTM A182-F316 | ASTM A182-F316 |
| 9 | Spacer Ring | ASTM A182-F316 | ASTM A182-F316 |
| 10 | Gasket | SS316+Graphite | SS316+Graphite |
| 11 | End Cover | ASTM A105 | ASTM A182-F316 |
| 12 | Yoke | ASTM A216-WCB | ASTM A351-CF8M |
| 13 | Bearing | ASTM A182-F316/Cr plated | ASTM A182-F316/Cr plated |
| 14 | Hemicycle Ring | ASTM A182 -F316 | ASTM A182 -F316 |
| 15 | Packing | Graphite/PTFE | Graphite/PTFE |
| 16 | Screw | ASTM A193-B7 | ASTM A193-B8 |
| 17 | Gland Bolt | ASTM A193-B7 | ASTM A193-B8 |
| 18 | Disc Screw | S.S. | S.S. |
| 19 | Disc Pin | S.S. | S.S. |
| 20 | Body Stud | ASTM A193-B7 | ASTM A193-B8 |
| 21 | Body Nut | ASTM A194 -2H | ASTM A194 -8 |
Class 150 - ISO PN20(PN6,PN10,PN16)
Valve Size
H1
H2
A
L
Approximate Weight(kg)
inch
mm
Lug
Wafer
flanged (Short Pattern)
Lug
Wafer
Flanged
3"
80
157
239
45
48
48
114
17
15
22
4"
100
179
280
45
54
54
127
19
17
25
6"
150
194
310
45
57
57
140
30
27
39
8"
200
230
330
75
64
64
152
37
33
48
10"
250
280
380
80
71
71
165
50
45
65
12"
300
310
450
100
81
81
178
81
69
100
14"
350
340
500
110
92
92
190
96
86
125
16"
400
365
510
110
102
102
216
137
122
177
18"
450
436
640
135
114
114
222
158
141
205
20"
500
450
660
150
127
127
229
214
191
277
24"
600
530
820
170
154
154
267
291
260
377
28"
700
600
903
170
165
165
292
426
380
551
30"
750
630
930
170
190
190
318
616
550
798
32"
800
696
967
175
190
190
318
728
650
943
36"
900
760
1105
175
203
203
330
930
830
1204
40"
1000
830
1175
175
216
216
410
1176
1050
1523
42"
1050
860
1210
175
229
229
410
1344
1200
1740
48"
1200
960
1320
200
254
254
470
1568
1400
2030
Class 300 - ISO PN50(PN25,PN40)
Valve Size
H1
H2
A
L
Approximate Weight(kg)
inch
mm
Lug
Wafer
flanged (Short Pattern)
Lug
Wafer
Flanged Short(I) Short(II)
3"
80
157
239
45
48
48
114
180
18
16
23
30
4"
100
179
280
45
54
54
127
190
20
18
26
34
6"
150
220
356
60
59
59
140
210
37
33
48
62
8"
200
260
420
80
73
73
152
230
52
46
67
87
10"
250
310
430
90
83
83
165
250
71
63
91
118
12"
300
345
480
100
92
92
178
270
109
97
141
183
14"
350
370
450
110
117
117
190
290
134
120
174
226
16"
400
390
550
120
133
133
216
310
213
190
276
359
18"
450
490
705
130
149
149
222
330
347
310
450
585
20"
500
520
750
140
159
159
229
350
431
385
558
725
24"
600
590
910
150
181
181
267
390
526
470
682
887
WINDMILL VALVE produce Tri-Eccentric butterfly valve,our company is a specialized supplier and manufacturer of Tri-Eccentric butterfly valve in china.Our Tri-Eccentric butterfly valve in the worldwide and enjoy good fame,If you are interested in any of Tri-Eccentric butterfly valve or your customers require to fill, please contact us right now! We will provide you with high-quality Tri-Eccentric butterfly valve and services