Products Introdcution
cryogenic valves are available in two bonnet designs. The first design is the Bolted Bonnet, with male-female joint,spiral wound gasket, made in F304L/graphite. Ring joint gasket are also available on request. The second design is the welded bonnet, with a threaded and seal welded joint. On request a full penetration strength welded joint is available. .
The cryogenic valves are available in gate and globe design configurations. Valves are designed with an extended bonnet for use in cold services to 196 degrees C(-320 degrees F). .
Construction is as follows
※ Full port or conventional port;
※ Outsied screw and yoke (OS&Y);
※ Extended bonnet;
※ Self-centering gland and flange;
※ Bolted bonnet with spiral-wound gasket sealing bonnet;
※ Threaded with full welding seal bonnet;
※ Integral backseat;
※ Socket welded ends to ASME B16.11;
※ Screwed ends(NPT) to ANSI/ASME B1.20.1.
Product application
WINDMILL has many users in cryogenic valves. forged cryogenic gate, globe and check valves are specially designed to handle the technical problems that arise in the production,transport and storage of liquified gases such as oxygen,nitrogen, argon, natural gas, hydrogen or helium (down to -425 F/-254 C). .
Specially adapted extended bonnet forged valves offer safe and efficient service. .
Design features
All basic design features of forged steel valve outlined in this catalog are adapted to special serviceconditions at cryogenic tempera-
tures.Extended bonnets with sufficient gas column length,usually specified by customer, are supplied for all valves to keep stem packing
at sufficient distance away from the cold fluid to remain functional.
Pressure releasing Hole, designed in the wedge, warrants the pressure in body chamber to be balance, even if the pressure inside the body
chamber is suddenly up.
High-hard-surfaced stem hardened with nitriding remains its perfect bruise and corrosion resistance at the extreme low temperature,so as
to prevent the packing from being damaged.
Overlaid Stellite 6 closure members on 1/2~2" (150 mm)valves operate with no galling in cryogenic service.
Cryogenic test (MESC 77/312)
Purpose: Demonstrating the perfect operating performances in model cryogenic conditions.
Environment: Inside a device full of liquefied Nitrogen , temperature smaller than 196℃.
Procedures: After being verified at room temperature,the valve is cleaned and dried,when the temperature reached the required one, it can begin to test.
Operating performance test in cryogenic conditions.
Sealing performance tests for packing and gasket
Sealing performance test for backseat
Samples Pictures as bellow:
Stainless Steel Cryogenic Valve SS304 2" 800LB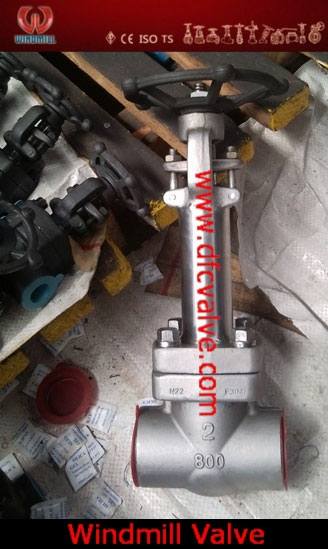 Stainless Steel Cryogenic Valves CF8M 2" 600LB RF Cast Steel Cryogenic Valves 2" 600LB RF WCB