Applicable standards:
Steel gate valves, API 600 / API 6D
Steel gate valves, ISO 10434 / ISO 14313
Steel valves, ASME B16.34
Face to face, ASME B16.10
Flanges end, ASME B16.5
Buttwelding ends, ASME B16.25
Inspection and test, API 598 / API 6D

Design description:
Full port design
OS& Y,outside screw and yoke
BB,Bolted bonnet
Flexible wedge,fully guided
Choice of solid or split wedge
Renewable seat rings
Forged T-head stem
Rising stem and non-rising handwheel
Flanged or buttwelding ends
Available with bg operator
This line of valves is one of WINDMILL main products. WINDMILL cast steel gate valves are designed and manufactured to provide maximum service life and dependability. All gate valves are full ported and meet the design requirements of API 600 and ANSI B16.34. Valves are available in a complete range of body/bonnet materials and trims.
Gate Valve Design Feature:
·Meet design requirements of ANSI B16.5, B16.34, B16.10 ,B16.25 (for NPS≤24), MSS SP-44(for NPS>24), API 600 or API 6D
·Inspection and Test: accord with API 598
·Full range of body/bonnet & trim materials
·Choice of solid, flex or split wedge design
·Back seating design
·Upset forged T-head stem design
·OS&Y construction
·Renewable seat rings--seal welded
·Full port design
·Full length wedge guides
·Optional impact hand wheel
·Optional lengthen stem
Gate Valve Products Range:
Size: 2"~48"
Rating: ANSI Class 150LB-2500LB
Materials : WCB,LCB,CF8,CF8M,CF3,CF3M,WC6,WC9, C5,C12 or Equivalent.
Actuation: Handwheel, Gear, Motor, Pneumatic
View 600Lb Gate valve with PDF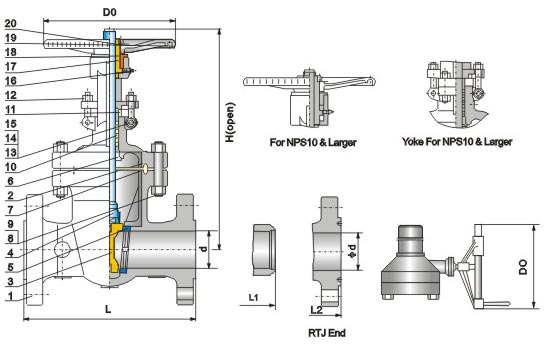 600Lb Gate valve Materials of parts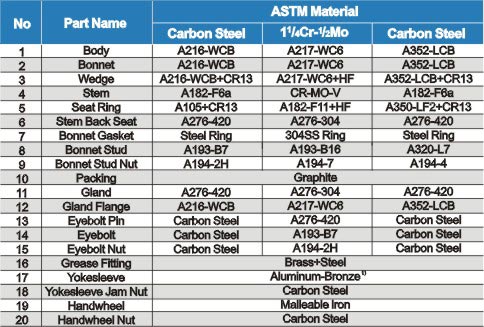 Note: 1).Gate valve Ductile Ni-Resist optional
2).Wedge and seat ring may either be solid facing material or a base material equal to or better than the body/bonnet material with facing as shown.
Gate valve 600Lb Dimensions data