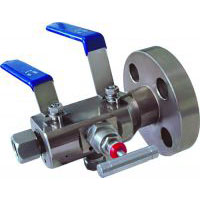 Emissions standards for valves continue to tighten up and to help meet the need for low fugitive emissions valves,
WINDMILL Valve offers fugitive emissions testing, with both methane and helium, to a sensitivity of two ppm.
We can perform both production and design qualification testing in our facility.
The primary document for qualification type fugitive emissions testing is
ANSI/ISA 93.00.01 "Standard Method for the Evaluation of External Leakage of Manual and Automated Valves".
Production testing entails a number of open and closed cycles (up to 5000),
combined with a few thermal cycles at temperatures up to 750oF (399oC).
In addition to the ANSI document, WINDMILL Valve can perform fugitive emission tests to meet any customer specification or standard.
For production tests not calling for the strict requirements of the ANSI document,
WINDMILL offers helium fugitive emission testing.
Our Varian helium leak detector has a sensitivity of two ppm and is ideally suited to higher volume production testing.
We have performed fugitive emissions testing for both manufacturers and end-users alike on valves from NPS ½" through NPS 2" of Forged Steel Valves.
Later we will suppor the valves NPS2"~NPS32" Casting Valves.