Applicable standards:
Accessory of pneumatic actuator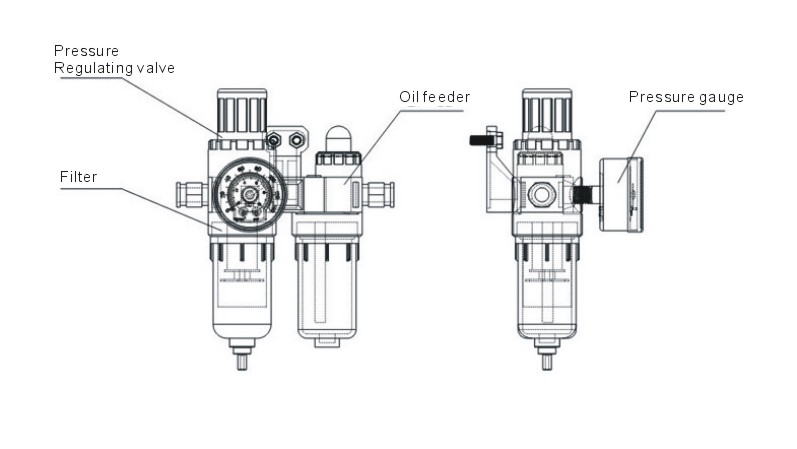 1.Technical specifications
Model

AC1500

AFC1500

AC2000

AFC2000

Working Medium

Air

Pull pipe bore

1/

1/

Filter element precision

40µ

Applicable pressure range

Manual drainage: 0.05~0.85Mpa

D

Max. adjustable pressure

0.95Mpa

Guaranteed pressure

1.5Mpa

Applicable temperature range
2 .Installation
Please clean the connecting pipe and joint to avoid dust to enter gas circuit while installing.
Please note whether the direction of gas flow is in accordance with arrow direction on the body
and whether the gear form of connecting pipe and joint is correct or not.
Fastness between filter, voltage regulating circuit (voltage regulating filter) and oil feeder: Match the bulge on stationary barrier with the groove on the body and then lock them up by stator and screw.
Fastness while using high voltage valve and voltage regulating filter alone: circumvolve the fixed loop to lock the accessory stator tight.


3 .Water discharging (filter)

There are two modes for water discharging of the filter, automatic and manual.
Manual: Water must be discharged before water level comes to filter element.
IV. Voltage Regulation (Voltage Regulating Valve)
Please draw back the rotary knob and then circumvolve it. Pressing the rotary knob means
orientation
Turning the rotary knob right is to raise the exit pressure and turning the rotary knob left is to
lower the exit pressure.
While regulating the voltage, evenly adjust to the wanted pressure value step by step. It can not be adjusted right the first time.
4.Methods of oil feeding and Regulation of oil mass (oil Feeder)

JISK2213 Transmission oil (ISO VG32 or same level oil) is applied for oil feeder. Oil mass should not be more than 80% of the cup. Number 0 is the minimum, 9 is the Maximum.
The alignment point of number is arrow direction. It can not be circumvolved from 9 to 0 position and It must be circumvolved clock wise.
5.Cautions
Some accessories are made of PC material. It is not allowed to be near or used in any organic solvent. The PC cup must be cleaned by neutral detergent.
Applying Voltage is not more that 0.95Mpa.
Replace the filter element when the air flow at exit decreases obviously.
6.Ordering code