WINDMILL VALVE have nearly 6 years' experience of industrial valve & pneumatic ball valve manufacturer and export.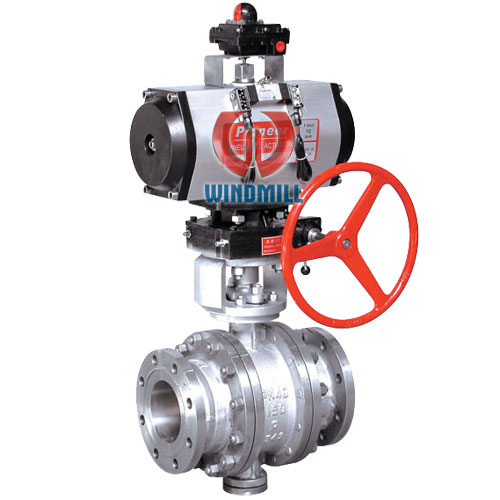 Standard Specifications:
Design & manufacture standard: API6D, API608, ANSI/ASME B16.34, MSS-SP-72
Face to face dimensions: ANSI/ASME B16.10, API6D.
Flange connection: ANSI/ASME B16.5 for NPS≦24〞,ASME B16.47A/MSS SP-44 for NPS>24〞.
Butt-welding end dimensions: ANSI/ASME B16.25.
Inspection & test standard: API598, API6D.
pneumatic ball valve Description:
Pressure: 150Lb, 300Lb, 600Lb, 900Lb or PN 2.0MPa~PN 15.0MPa or JIS 10K, 20K.
Nominal diameters: 1/2〞~ 24〞or DN15~DN600.
Major materials: WCB, WC1, WC6, WC9, A105, CF8(304), CF8M(316), CF3(304L), CF3M(316L), etc.
Driving styles: pneumatic, etc.
Fire-resistant & anti-static design.
1. Design and manufacture according to the requirements of BS 5351.
2. Smallest liquid resistance for ball valve types.
3. Quick open and close speed, it may finish open and close by only rotating 90 degree.
4. Seat material follows PTFE or reinforced PTFE, with low friction coefficient, reliable sealing, open and close smoothly.
5. There is wipe action between ball and seats suitable to the medium of suspend granule.
6. Stem with upper and top entry structure is to avoid the stem blow out under the pressure of medium.
7. According to need of consumer may design anti-static, fire-safe, and lock system to prevent wrong operation.
8. Ball may be floating type and trunnion type in accordance with open and closing torque. The seat of trunnion ball valve is floating ball valve type which realize sealing by piston effection of medium pressure on seat and reduce open and close force.