Applicable standards:
Steel gate valves, API 600 / API 6D
Steel gate valves, ISO 10434 / ISO 14313
Steel valves, ASME B16.34
Face to face, ASME B16.10
Flanges end, ASME B16.5
Buttwelding ends, ASME B16.25
Inspection and test, API 598 / API 6D

Design description:
Full port design
Ol& Y,outside screw and yoke
BB,Bolted bonnet
Flexible wedge,fully guided
Choice of solid or split wedge
Renewable seat rings
Forged T-head stem
Rising stem and non-rising handwheel
Flanged or buttwelding ends
Available with bg operator
View Pressure Seal Gate valve with PDF
WINDMILL pressure seal gate valves are designed for high temperature, high pressure, services mainly encountered in nuclear and fossil fuel power plant. Compare with bolted bonnet valves, WINDMILL pressure seal gate valve are less complicated and can provide absolute excellent seal service with minimum maintenance.
Pressure seal gate valve Design Feature:
·Pressure seal - uncomplicated design has segmented retaining ring and mild steel gasket to aid disassembly.
·Stellited seating surface
·Low emission control
·Fully guiding
·Absolute bonnet joint leak proof
·Optional by - pass design
·Integral backseat - hardfaced for maximum life.
Pressure seal gate valve Products Range:
Size: 2"~16"
Rating: ANSI Class 600lb-2500lb
Materials : Carbon steel: ASTM A216 WCB Alloy Steel: ASTM A217-WC6,WC9,C5,C12 Stainless Steel:CF8,CF8M,CF3,CF3M or Equivalent
Actuation: Handwheel, Gear, Motor operator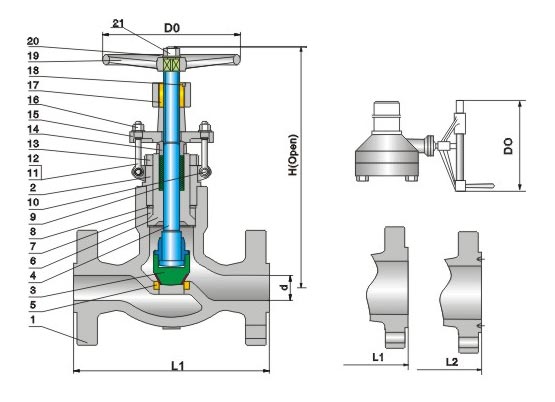 900Lb Pressure Seal Gate valve Materials of parts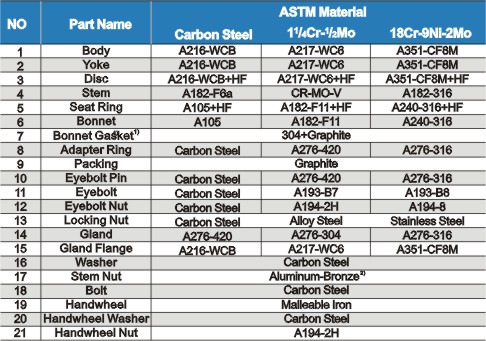 Note: 1).Ductile Ni-Resist optional 900Lb cast steel Gate valve
2).Wedge and seat ring may either be solid facing material or a base material equal
to or better than the body/bonnet material with facing as shown.
900Lb cast steel Pressure Seal Gate valve Dimensions data